During November staff from Swansea University School of Education (SUSE) accompanied teachers from Wales on a study visit to Iceland.
The teachers were selected from 'All-age schools' in Wales. All-age schools combine both primary and secondary phases in the same institution, providing a continuous setting for pupils throughout the education phases. While all-age schools are a recent and growing development in Wales, in Iceland schools for children aged 6 to 16 are the norm. Therefore, the aim of the visit was for teachers to explore how 'all-age schools' function in Iceland in comparison to their own settings.
During the trip teachers visited a variety of schools and learned about the Icelandic education system. Visits involved tours of the schools, along with informative discussions with staff and students. Alongside this, Swansea University staff made connections with The University of Iceland with hopes of conducting further international research into all-age schools in the future. The trip also allowed the teachers from Wales to share their own experiences of working in all-age schools and to establish knowledge-sharing relationships.
Staff from Swansea University School of Education (SUSE) will be taking part in a similar trip to Sweden next year.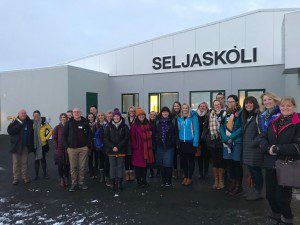 Staff at the School of Education are looking forward to working with all-age schools in Wales and internationally, to research the impact of these schools on their students, teachers, and the education systems in which they are situated.